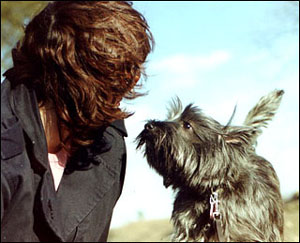 Notes, thoughts scribbled...5/17 & 5/18..I miss you, WE ALL miss you.
The tears I shed are nothing compared to what he feels.
To see him weep breaks my heart.
I feel inept, I can do nothing to stop his pain.
I only know you made him smile,
You made him happy,
You made him laugh,
You also eased his torment when times were bad,
especially when "I" caused trouble.
I will miss you so very much, Dear Duncan,
You made me realize the joy a dog can bring to one's life,
even though at times I didn't show it,
You made my dark little heart smile.
RIP
Duncan Schell
May 17, 2004
PS... more words and photo's on the best dog in the world coming soon
© 2002 - 2007; Debbie Sauvage